It's possible to share your patches with other Thor users. Since the patch format is compatible with all platform versions of Thor, it's also possible to transfer patches back and forth between Thor for iPad and the Reason version of Thor!
For example, create your patches on the bus and transfer them to your computer at home. Then, open them in the Reason version of Thor and create complete songs.
Transferring Patches from Thor for iPad
To transfer patches from Thor for iPad, connect your iPad to iTunes on your computer.


The Thor patches can be found in the Apps tab under your device in iTunes.
Transferring Patches to Thor for iPad
Patches you have received via e-mail on your iPad, or downloaded from the Internet, can be opened in Thor for iPad. You can also open patches directly from another app in iOS, such as Safari, Dropbox or similar.
Tapping a Thor patch in another app on your iPad automatically launches Thor and opens the patch. Patches opened this way are automatically stored on the "Inbox" tab in the Patch Browser: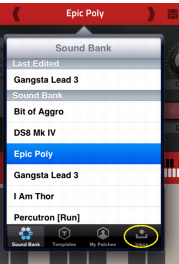 The Inbox tab in the Patch Browser.